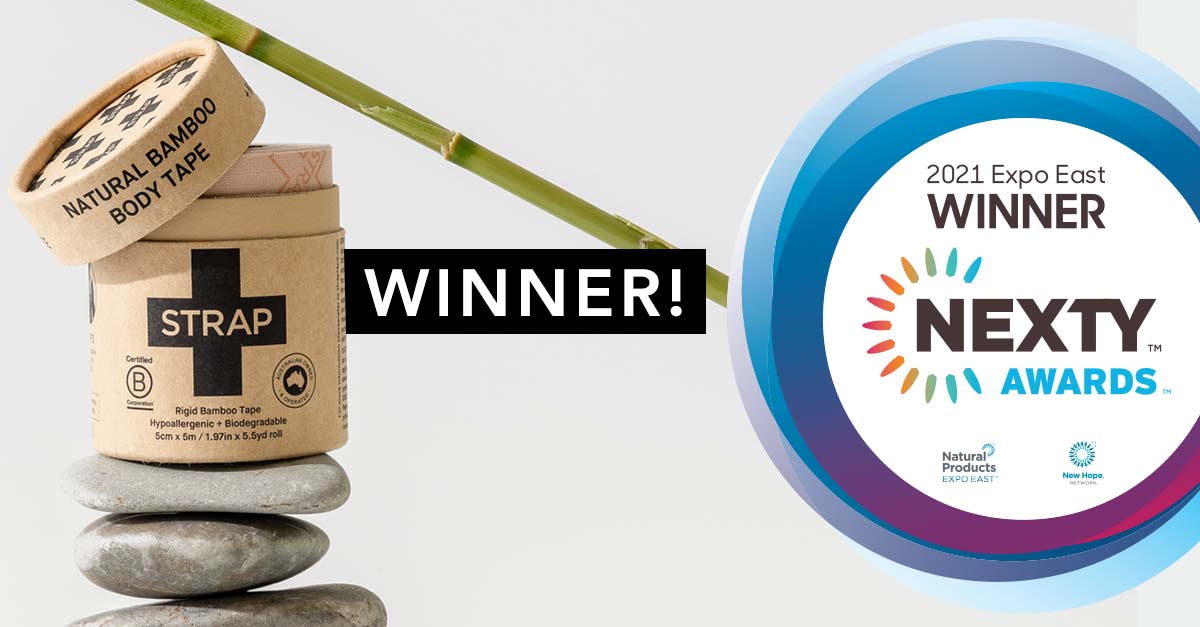 STRAP by Nutricare is one of only 23 winners of the New Hope Network 2021 Expo East NEXTY Award for outstanding new products in the natural products industry. STRAP bamboo sports and body tape won for Best New Sports Nutrition or Active Lifestyle Product.   
NEXTY Awards are given to products that display outstanding innovation, inspiration and integrity. These products help drive the underlying goal of the natural products industry to deliver more healthful, trusted and sustainable products to consumers.
STRAP was one of 78 finalists selected by a panel of natural products industry experts from more than 600 entries across 23 categories, including Best New Mission-based Product, Best New Organic Food and Best New Supplement. Winners were announced on Wednesday, September 15, 2021 during the Expo East Virtual Extension.  
"Since first exhibiting at Expo West 2019, we have been blown away by the support and interest in Nutricare and greener personal care alternatives," said Nutricare CEO James Dutton. "We wanted to create something that both benefited the planet and was respected as a high-performance product in the body tape and injury management space. STRAP Bamboo tape is something we've been working on and perfecting for years – and we're so excited to be launching this world first innovation through a platform such as Expo East."
"The amount of plastic waste generated annually in the sports tape market is staggering" explains Nutricare US President Hammad Atassi "We knew there was a strong and engaged market for it in North America. An award such as this NEXTY is the ultimate launchpad for a brand like ours, and we are so excited to see the growth and demand for STRAP alongside sister brand (and NEXTY winner) PATCH Bamboo Bandages"